Quiet Signs
While golf is officially classified a game, to the participants who take it to the level of professionalism, it is a fierce battle of skills, concentration and wits. To these individuals who are funneling all their concentration into a single shot, the scream of a child, raucous laughter of a teenager or general loud chatter of stander-byers comes as a most unwelcome distraction. Quiet signs are therefore a fundamental message to reinforce to those on a golf course, or more importantly, at a golfing tournament. Quiet signs at golfing tournaments remind the audience to respect the professional golfers who are essentially at work and required to give career altering performances. Quiet signs as a permanent fixture around golf courses simply serve to remind people to respect one another as well as the nature sanctuary they are essentially enjoying their games in.
Golf-signs.com brings to you Quiet Please signs for order online, which you can either choose in our template design or customized to meet your specifications. We render photographic quality prints of sponsoring company names and logos so you can both get your message across as well as get great sponsorship exposure. Quiet Please signs are available in composite 1/4" style, or corrugated plastic.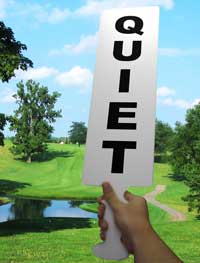 Our quiet signs are photographic quality and produced in house by us. That means no middle man, you're buying directly from the manufacturer which translates to lower prices!
Visit our discounts page to view quantity price breaks and shipping discounts.
Check our help section for sign designing tips.
All of our signs come ready to use with a step stake, just stick them in the ground.