Custom Shaped Golf Signs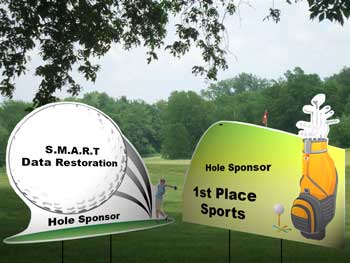 Golf is a game steeped in tradition and history, but that doesnít mean you canít keep things fresh with golf-signs.comís range of shaped sponsorship signs! Every golf course, tournament and event has a need for signage; whether it is to provide instructions, convey a message, directions or warnings to both the participants and the spectators. Shaped sponsorships signs provide the perfect, highly attractive, durable and totally customizable platform from which to convey these messages as well as provide your sponsoring company(s) with the exposure they deserve!
Thanks to golf-signs.comís wide array of shaped sponsorship signs, there are literally no reins on the styles of signage you can order. Our shaped sponsorship signs are printed in full color and photographic quality and are highly resistant to the elements, come rain or shine! So, if you prefer Golf Ball Shaped Sponsorship signs, those in the shape of a golf cart or the more traditional square or rectangular ones, the choice is completely up to you. To see exactly what it is you can do with our shaped sponsorship signs, check out golf-signs.comís custom design tool where you can play around with the font size, color and styles as well as sign shapes to get the perfect design to suit your golf course, event or tournament needs!
Our golf tee signs are photographic quality and produced in house by us. That means no middle man, you're buying directly from the manufacturer which translates to lower prices!
Click any sponsor sign below to begin adding your sponsor names instantly. We are constantly adding new templates to choose from. Visit our discounts page to view quantity price breaks and shipping discounts.
Check our help section for sign designing tips.
All of our signs come ready to use with a step stake, just stick them in the ground.